Shape up and smile
Shaping the body
3 treatments 14,000 RSD
Treatment zone:
Body
Problems to be solved:
Localized fat deposits in problematic places
Results of treatment:
Reduction of adipose tissue. Volume shrinkage in the treated region. Reshaping the body.
Devices used:
Cryolipolysis device
Recommended season:
Especially spring and summer, but may be used all year
Treatment period:
Periodically, in series, on different body zones
Cryolipolysis is a program of weight loss and reshaping the body by reducing fat deposits through intensive cooling. It is an innovative, non-invasive and painless non-surgical method of removing fat deposits from problematic regions of the body.
Cryolipolysis is a global hit in aesthetic centres for figure remodeling by removing localized fat deposits. This state-of-the-art technology is based on targeted cooling of fat cells with no consequences for the skin, nerves or other surrounding tissues. The fat is eliminated through resorption and natural metabolic processes in the body.
It leads to an efficient reduction of fat deposits in the treated regions, with outstanding results for both men and women. After the first treatment, a reduction of about 25% of adipose tissue may be expected. Depending on genetic predisposition, metabolism, degree of physical activity and diet, clients lose 3-8 cm in circumference through cryolipolysis.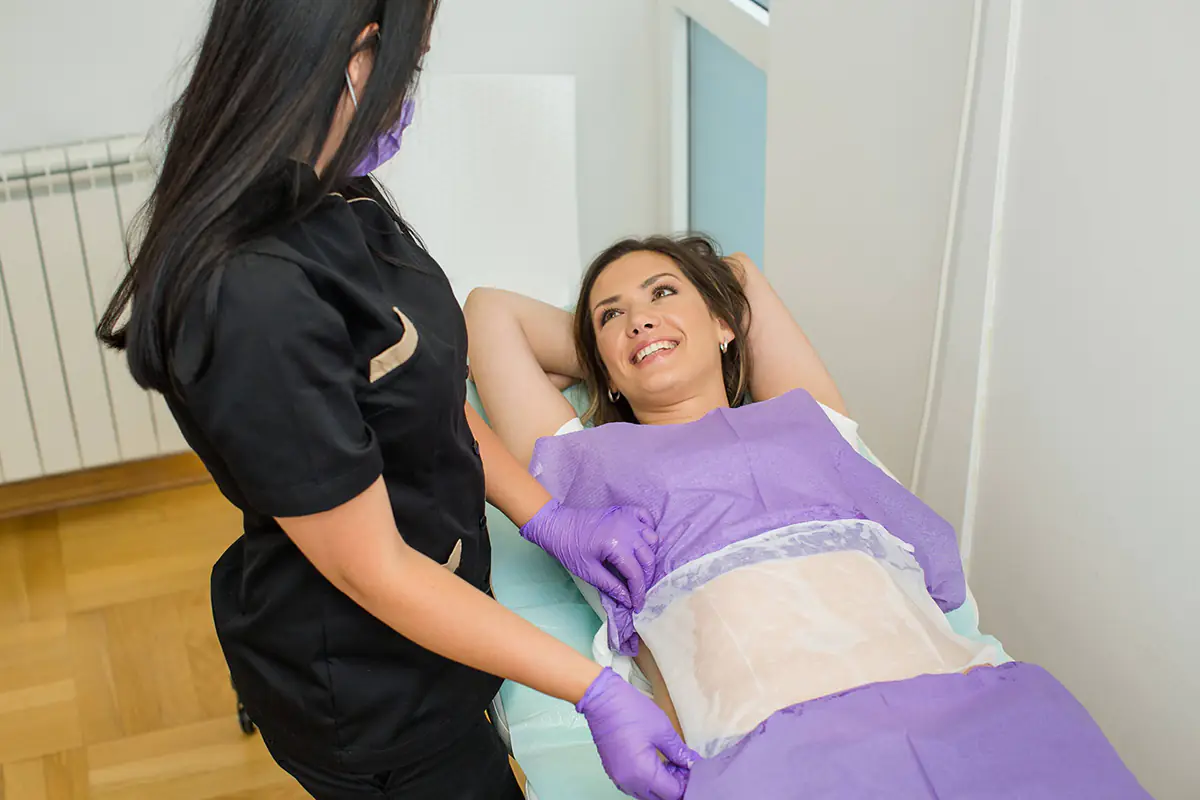 Who can benefit from cryolipolysis?
Cryolipolysis is perfect for people of both sexes and all ages. This is not a method for weight loss, but a way to treat regions with fat deposits that are especially resistant to diet and exercise. Cryolipolysis treatments can be applied to the entire body from the hips, abdomen, inner and outer thighs, to the upper and lower abdomen and gluteus. Two or more zones can be treated a few days apart.
Is cryolipolysis painful?
During the procedure you may experience a sensation of vacuum, indentation and slight tightening of the skin, cold or tingling at the site of application. The sensation calms down and disappears as the treatment proceeds. Clients usually spend time reading or snoozing.
Is any special preparation required before treatment?
No special preparation is needed.
When are the first results of cryolipolysis visible?
The first effects of the treatment are usually seen from the fourth week after the treatment. The process of breaking down fat cells and their resorption by natural metabolic processes continues for another 2 to 3 months when the full effect of the treatment is visible.
How many cryolipolysis treatments are needed?
Depending on the thickness of the fatty tissue, 3 to 4 treatments may be needed. Ideally, 3 weeks should pass between treatments in any one region.
How often should coolsculpting be repeated?
After an initial series, it may be repeated as required.
Is any post-treatment therapy required?.
For cryolipolysis to have an effect, it is important to practice a healthy diet in line with your needs and activities.
How long is the recovery time?
No recovery time is needed. You can resume your daily activities immediately.
Can cryolipolysis be combined with any other treatment for better effect?
Cryolipolysis gives excellent results in combination with anti-cellulite massage, madero therapy or lymphatic drainage.
Is this treatment also recommended for men?
Of course!
Price of cryolipolysis treatment
Our list price for cryolipolysis is
6,000 RSD per region
See our complete price list here,
or call us to check current special offers!