Smooth
For ever!
Laser removal of hair
from face and body
Treatment zone:
Body/face
Problem to be solved:
Excessive hair growth. Ingrown hairs after shaving or depilation.
Results of treatment:
Facial and body hair permanently removed. Smooth, velvety skin, without ingrown hairs.
Devices used:
Diode triple frequency laser 755+808+1064 nm for epilation
Recommended season:
All year round
Treatment period:
In series, with annual maintenance
Laser hair removal (or epilation) is a technique that permanently removes unwanted hair from various regions of the face and body. The diode laser does this simply, rapidly and painlessly.
Permanent laser hair removal from various regions of the face (earlobes, chin, throat, sideburns) and body (armpits, arms, legs, groin, back, chest, abdomen, genitals), is performed at Lepo-Lepše with diode 808 nm and 755 + 808 + 1064 nm lasers.
Forget about painful wax depilation, depilatory cream or your razor, laser epilation is a permanent and comfortable solution for you. A slight tingling sensation may be felt during treatment.
Treatments are repeated every 7-8 weeks (body) and every 4 weeks (face), and the full effect is achieved with 4-8 treatments, depending on the type of skin and hair, and on the region being treated.
NOTE: Antiaging centre Lepo-Lepše does not provide laser epilation of the groin, buttocks or genitals for men.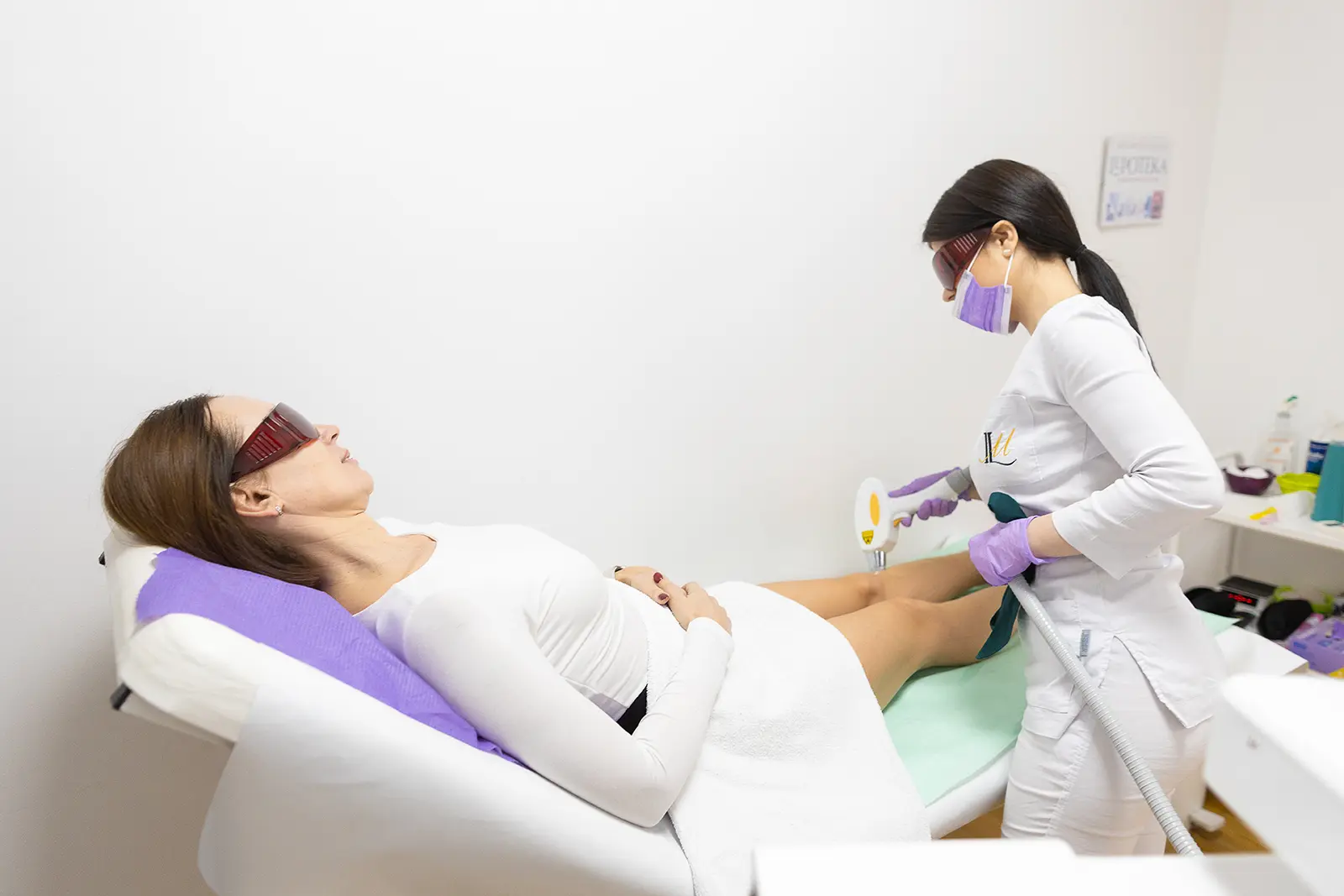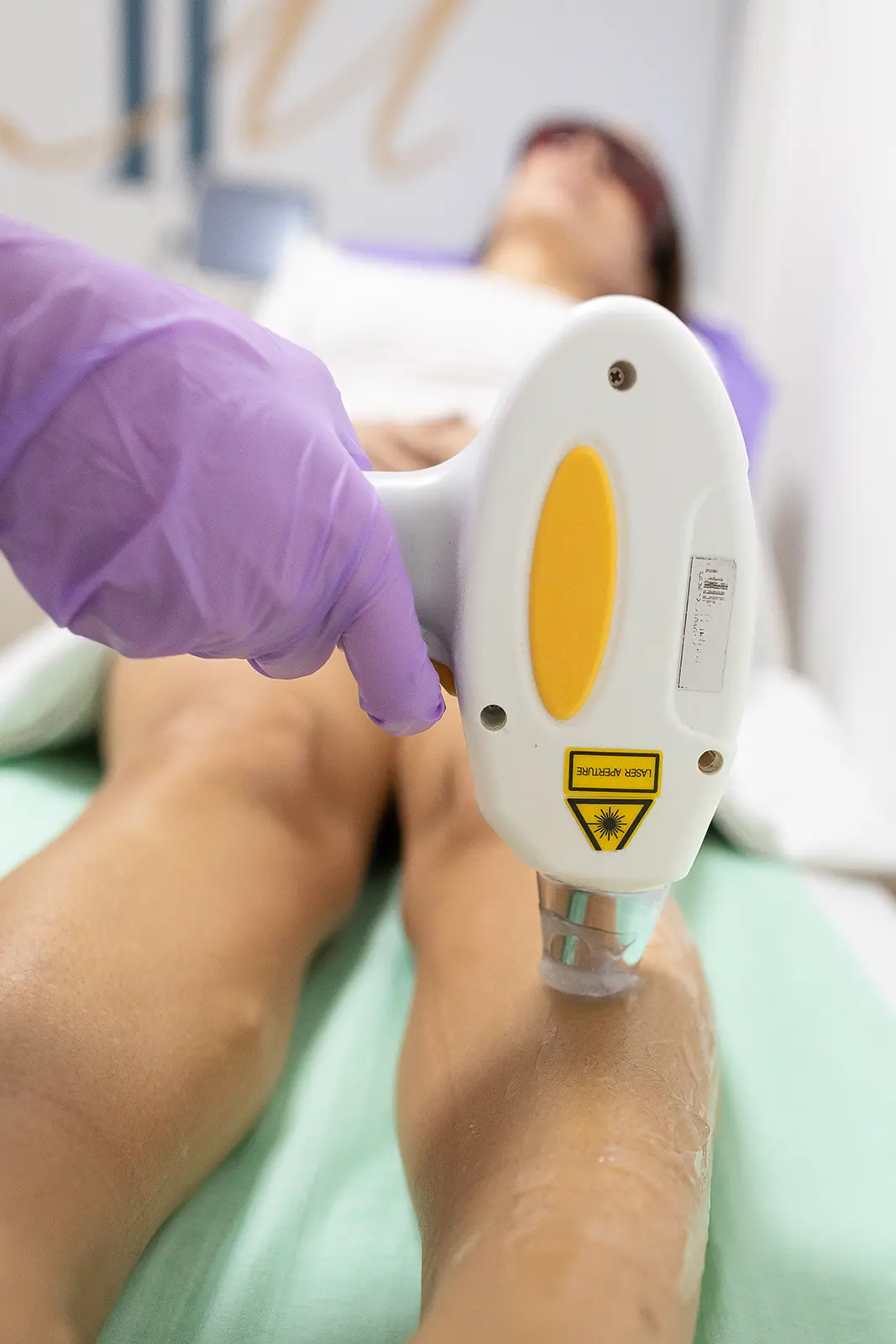 Who can benefit from permanent hair removal?
Laser hair removal is for anyone for whom hair is a problem. Laser epilation is most effective if you have lighter skin and darker hair, which is the ideal condition for our diode lasers. This does not mean they have no effect with darker skin and darker hair. Older teenagers can also use this treatment. People with grey hair can unfortunately not benefit from laser hair removal.
Is laser hair removal painful?
Thanks to these lasers' special cooling systems, no pain is experienced.
Is any special preparation required before epilation?
Preparation for the first session consists of refraining from hair removal for three to four weeks before the treatment. During this time, you can use depilatory creams, scissors or a razor. You should also refrain from sunbathing for at least two weeks before.
How many treatments are needed?
The number of treatments is individual for each client and depends on the structure, thickness and strength of the hair, the skin colour, the region being treated and hormonal status. On average, 4-8 treatments are needed to achieve the full effect.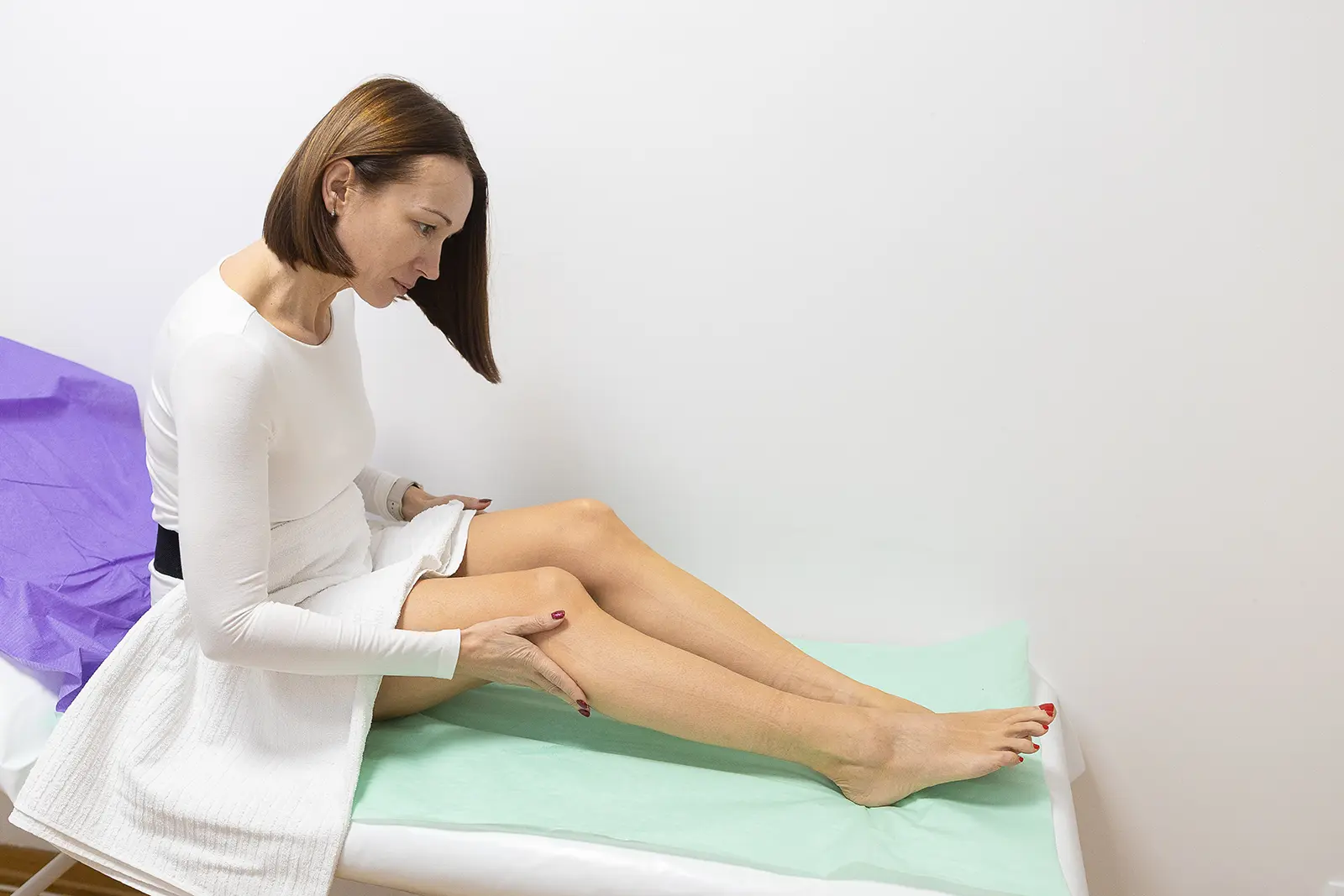 When are the first results of laser hair removal visible?
You can notice the first hair loss after 10-14 days. The hair will grow more slowly, becoming thinner.
How often should epilation be repeated?
After the initial series, treatment may be repeated as required. Maintenance treatment may be carried out approximately once a year.
How should I behave between two treatments?
Strong chemical and mechanical irritants must not be used for the next 24-48 hours. It is not advisable to pull the hair with tweezers or use wax between two epilation treatments. Hair that has grown between two treatments can be freely removed with a razor, scissors or depilatory creams.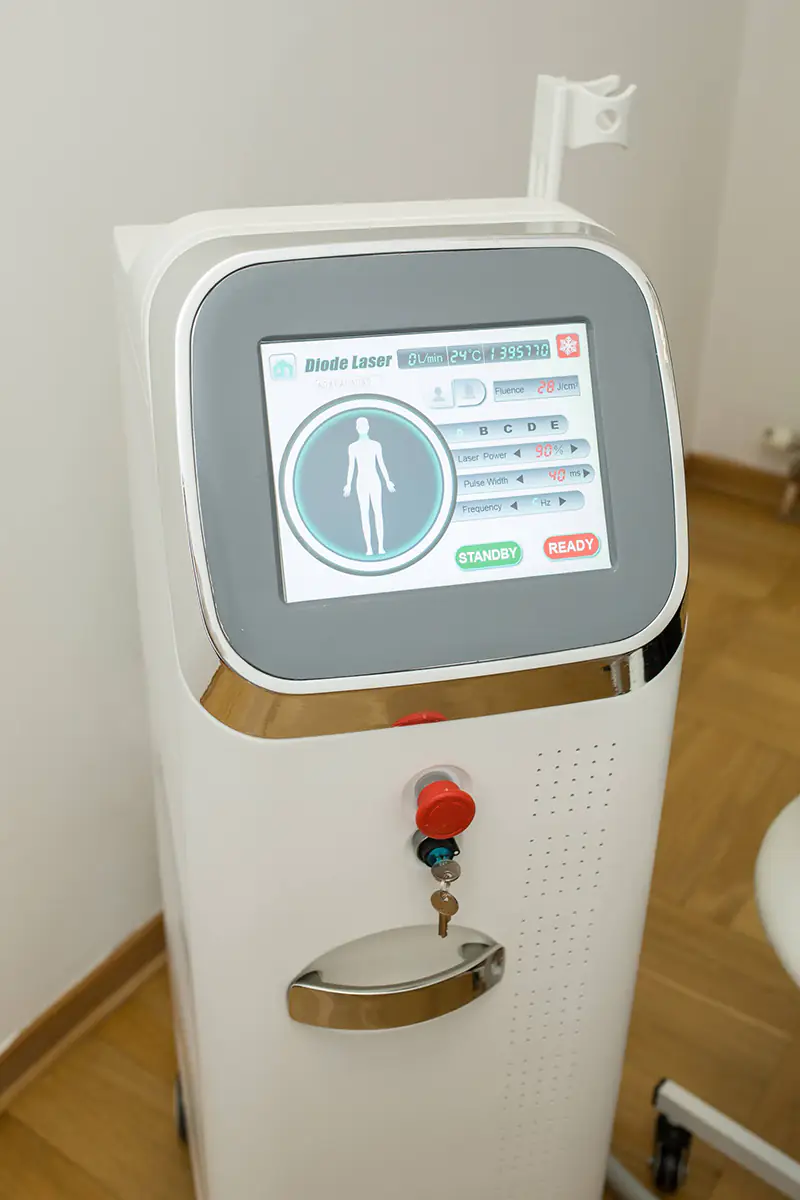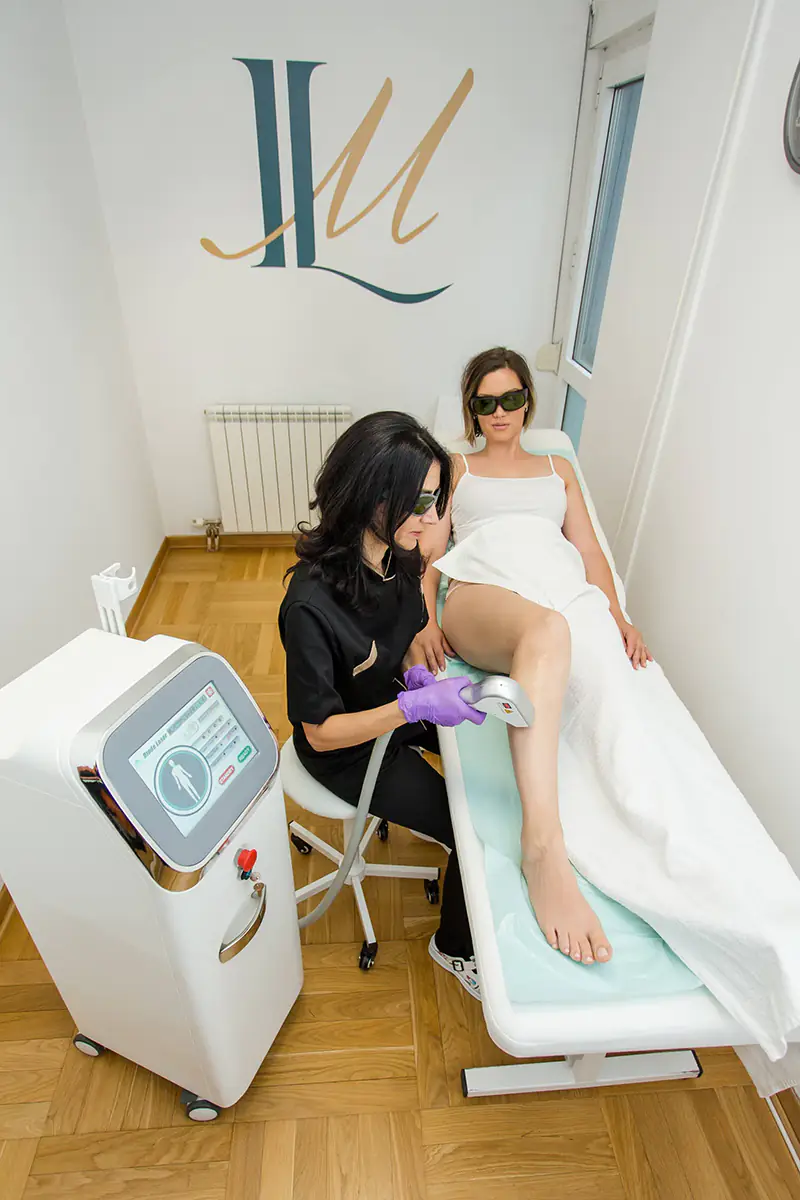 Is laser hair removal also recommended for men?
Of course! But ithis does not include laser epilation of the groin, buttocks or genitals.
Book a Laser hair removal treatment