The power of
natural beauty
Organic GREEN PEEL® herbal peeling
Treatments and care
German beautician and esthetician Dr Christine Schrammek laid the foundations for the original GREEN PEEL® herbal peeling treatment more than 60 years ago. This treatment helps people with various skin types and problems to achieve a clean and even skin. Its basis is a mixture of eight selected plants that contain enzymes, minerals and vitamins, which are massaged into the skin.
The original GREEN PEEL® herbal peeling
treatment is exclusively available from
certified aestheticians and doctors.
Lepo-Lepše antiaging centre "Lepo-Lepše" is certified and
offers the following GREEN PEEL® treatments:
Green Peel treatments today
The herbal peel was further developed and improved by the heiress of the inventor, her daughter, dermatologist Dr. med. Christine Schrammek – Drusio, and is used today by aestheticians and doctors around the world. Varied amounts of the herbal blend allow the GREEN PEEL® herbal exfoliating treatment to be individually tailored to different skin types and to achieve personal treatment goals for the face, neck and décolletage.
For skin renewal, a vital complexion and instant beautification
There are three methods of GREEN PEEL® herbal peeling: Fresh Up, Energy and Classic. Besdies these, Antiaging Centre Lepo-Lepše has included two more groups of three treatments in its Greenpeel range: refreshing Hydra, Antiage and Rosacea Sensiderm treatments, together with Black Clearing, Detox and Mela White treatments.
Organic GREEN PEEL® herbal treatments give especially good results in combination with home care products from Dr med. Christine Schrammek-Drusio derma.cosmetics cosmetic lines. They are specially designed for different skin types, resulting in refreshed, smooth and firm skin, soothed and protected against negative external influences.
Green Peel treatment zone:
Face/neck/décolletage
Green Peel recommended treatment season:
All year round
Green Peel treatment period:
Periodically or in series, depending on the skin condition
Are Green Peel treetments recommended for men too?
Of course!
Is any special preparation required before Green Peel treatment?
No special preparation is needed.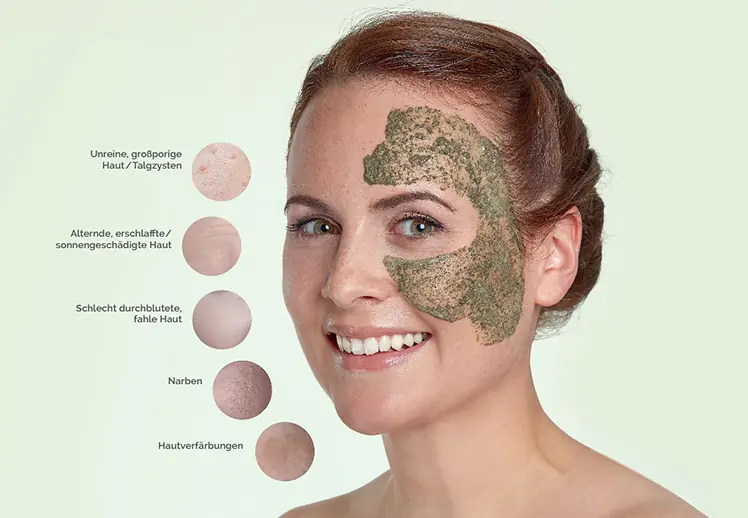 Green Peel – Hygienic
Black Clearing treatment
Green Peel –
Detox treatment
Green Peel – Mela White
regenerative treatment
Green Peel –
Classic treatment
Green Peel –
Energy treatment
Green Peel –
Fresh Up treatment
Green Peel – Refreshing
Hydra treatment
Green Peel – Refreshing
Antiage treatment
Green Peel – Refreshing
Rosacea Sensiderm treatment
Green Peel –
Microneedling