Relaxed
but resilient
SkinPro cleansing
for firmness and hydration
Treatment zone:
Face / Neck / Décolletage
Problems to be solved:
Loose skin of the face, neck and décolletage. Fine lines and wrinkles. Skin dehydration
Results of treatment:
Tighter skin of the face, neck and décolletage. Prevention and alleviation of signs of skin aging.
Devices used:
SkinPro apparatus
Recommended season:
All year round
Treatment period:
Periodically, best in series of 3-6 treatments
SkinPro Radio frequency lifting
Radio frequency lifting of the face, neck and décolletage with the SkinPro apparatus causes the contraction of existing collagen fibres, improving their structure. This restores tautness and smoothness to the skin. It also provides a beneficial effect of better blood circulation and detoxification.
The radio wave lifting (RTL) method heats the middle layer of the skin, which contains collagen and elastin, elastic fibers that give the skin firmness. The skin reacts by starting a process of renewing elastic fibres.
This has a tightening effect as a consequence of the collagen becoming firmer. Heating the surface and deeper layers of the skin also improves local blood circulation, the drainage of free fatty acids into the lymphatic system and the elimination of excess fluid and toxins from the body. This has the effect of rejuvenating the skin of the face, neck and décolletage.
During the treatment, hyaluronic gel or the latest lifting anti-age booster from GREEN PEEL® and the Dr. Schrammek family, which with its special combination of active substances contribute to smoothing and firming of the skin, and reducing wrinkles. Your skin will be visibly toned, fresh and smooth after just a few pleasant treatments.
With SkinPro cleansing, we offer a free microdermabrasion treatment for facial cleansingand to achieve the best lifting effect.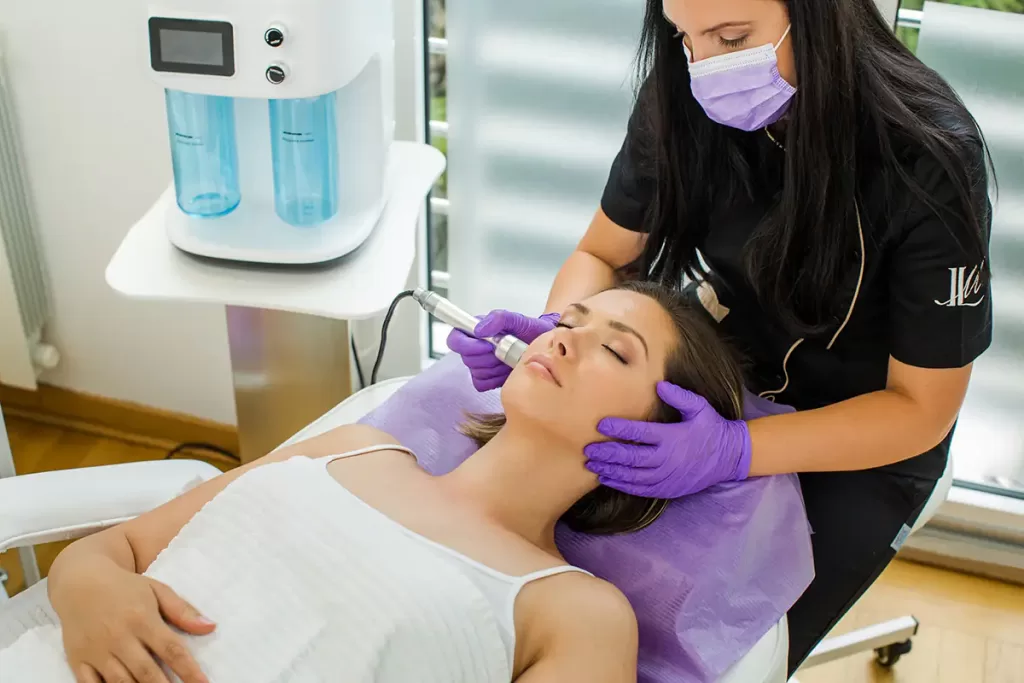 Who can benefit from SkinPro radio frequency lifting?
SkinPro treatment is a pleasant treatment suitable for all skin types and ages. It is for anyone who wants to get rid of fine lines, and wants the skin of their face and neck to look fresh and hydrated, firmer and brighter.
Is any special preparation required before treatment?
We perform all the necessary preparation immediately before the treatment.
Is SkinPro radio frequency lifting painfull?
The treatment is pleasant and completely painless. You can resume your daily activities immediately after the treatment.
How many treatments are recommended?
The best results are achieved with a series of 3-6 treatments with a week between.
When are the first results of SkinPro treatment visible?
The first results are immediately visible, the skin is firmer and tighter, fresher and nicely hydrated
Is any post-treatment therapy required after SkinPro treatment?
There is no need for any post-treatment therapy, the treatment is completely non-invasive and extremely comfortable.
How long is the recovery time after SkinPro radio frequency lifting?
There is no recovery time, the treatment is completely non-invasive and extremely pleasant, and you can immediately resume your usual activities.
How often should SkinPro RF lifting be repeated?
To maintain the result, it is optimal to do one treatment every 2 to 3 months.
Can SkinPro RF lifting be combined with any other treatment for better effect?
SkinPro can be combined with other treatments we offer at Lepo-Lepše related to tightening and rejuvenation of the skin of the face and neck, DermaOXY oxygen treatments with antiaging serums, and similar.
Is this treatment also recommended for men?

Yes, of course!
Book a SkinPro Radio frequency lifting