New life
for the hair
Mesotherapy without needles
Treatment zone:
Scalp
Problems to be solved:
Hair loss. Excesive sebum secretion. Dandruff. Lifeless hair damaged by dyeing or the sun
Results of treatment:
New hair growth timulated. Settling a problematic scalp (dandruff etc.. Reduced sebum secretion. Hair shine restored
Devices used:
DermaOXY apparatus
Recommended season:
All year round
Treatment period:
Periodically. Best in a series of 3-6 treatments
DermaOXY – Oxygen treatment for scalp and hair
DermaOXY Oxygen treatment for scalp and hair is a combined action of the DermaOXY apparatus and a specially designed serum. Skin and scalp care products contain important natural ingredients: 3 types of hyaluronic acid, peptide complex, antioxidants and vitamins. These have a strong strengthening effect on the skin and hair. Active serum, tonic and hair shampoo are a complete care and help strengthen the skin of the scalp. The preparations used are natural, they do not contain parabens or known allergens.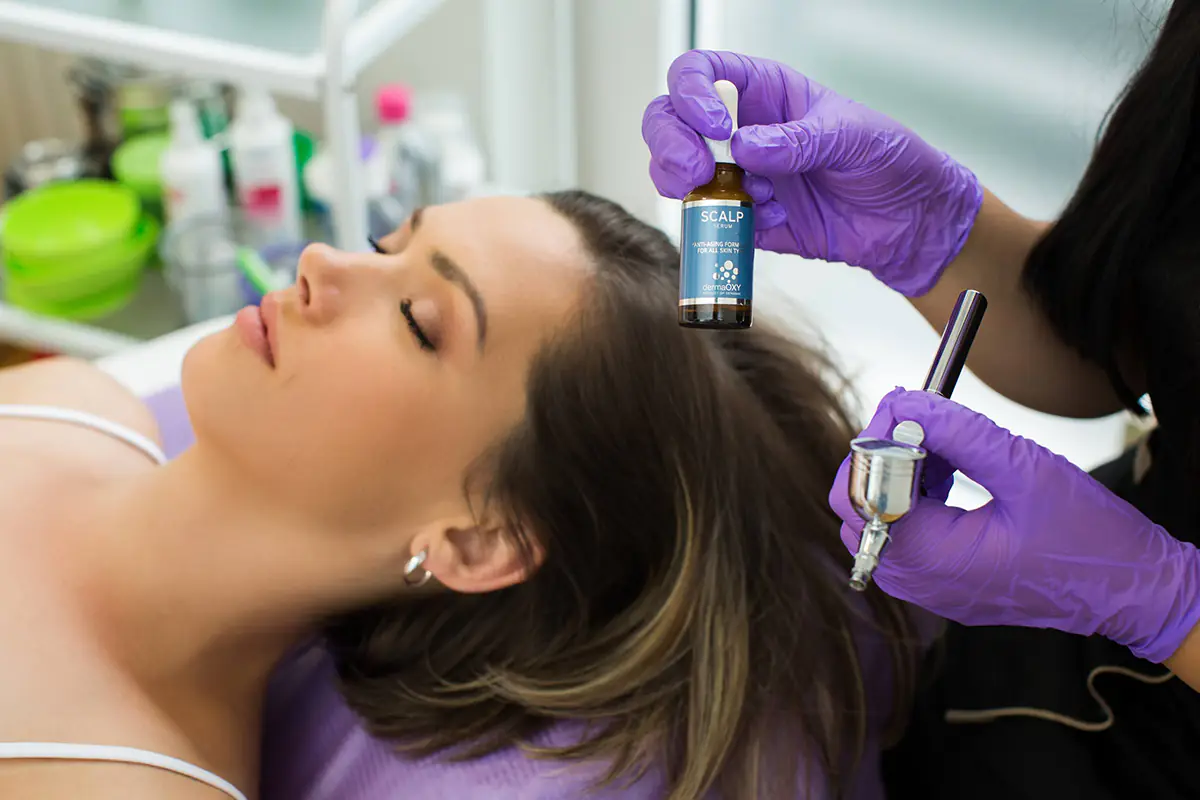 Extremely effective treatment with oxygen and a specially patented serum that strengthens hair follicles, prevents hair loss and acts on dry and irritated hair roots. The serum contains hyaluronic acid which keeps moisture in the hair follicles and gives the hair the necessary elasticity. By adding hyaluronic acid and the necessary moisture, the hair becomes much more resistant to damage.
The special serum is applied to the scalp. It contains a combination of peptides that achieve an anti-aging effect. Its main function is to improve the hair, to give it a healthier look and shine, and to preserve its colour. It contains a natural antioxidant in the form of vitamin E, which protects against oxidation, and keeps hair young and healthy. The serum also contains many other ingredients that naturally soothe hair root irritation and keep it moist, so that no scales appear. It can be used for both natural and coloured hair, and has a marked effect on hair growth and quality.
Who can benefit from DermaOXY scalp and hair treatment?
This treatment is for anyone whose head and hair require care that goes beyond standard hygiene. If you have a problem with weakened hair, hair loss, increased sebum secretion, dandruff, or your hair has become lifeless and lost its shine due to prolonged colouring or sun exposure, DermaOXY oxygen and hair serum treatment is the ideal solution to your problems.
Is any special preparation required before treatment?
No special preparation is needed.
How many treatments are recommended?
DermaOXY treatment is done periodically, preferably in series of 3 to 6 treatments. We recommend the use of home care products, DermaOXY tonics and shampoos, which help to achieve better and longer lasting results.
When are the first results of DermaOXY scalp and hair treatment visible?
Hair refreshment is visible immediately after treatment, but a series of treatments makes the effects more visible, as does the use of the home care products.
Is any post-treatment therapy required?
No, except that the use of DermaOXY tonics and shampoos for home care is recommended to achieve the best possible results.
DermaOXY conditioner and hair tonic – an effective and stimulating means for scalp care. It contains nutritious vitamins and a special complex of fatty acids that stimulate circulation and strengthen the scalp. It contains a special vitamin complex (vitamins A, E, F, X) that actively nourishes, affects hair growth, prevents oxidation, aging and scalp diseases. It is designed for all hair types, it is applied to wet or dry scalp without rinsing.
DermaOXY shampoo – Contains effective and nourishing ingredients that will strengthen the hair root and its elasticity. It also contains effective hyaluronic acid that maintains the moisture level of the scalp and hair follicles, as well as a vitamin complex (A, B, E, F, H) that protects against oxidation, aging and hair loss, supporting growth and preventing scalp disease. Does not contain silicones. Suitable for dry hair with heavy dandruff.
How long is the recovery time after treatment?
There is no need for any recovery.
How often should DermaOXY treatment be repeated?
A series may be repeated periodically, as required.
Can DermaOXY treatment be combined with any other treatment for better effect?
Follow-up with DermaOXY home care products is highly recommended.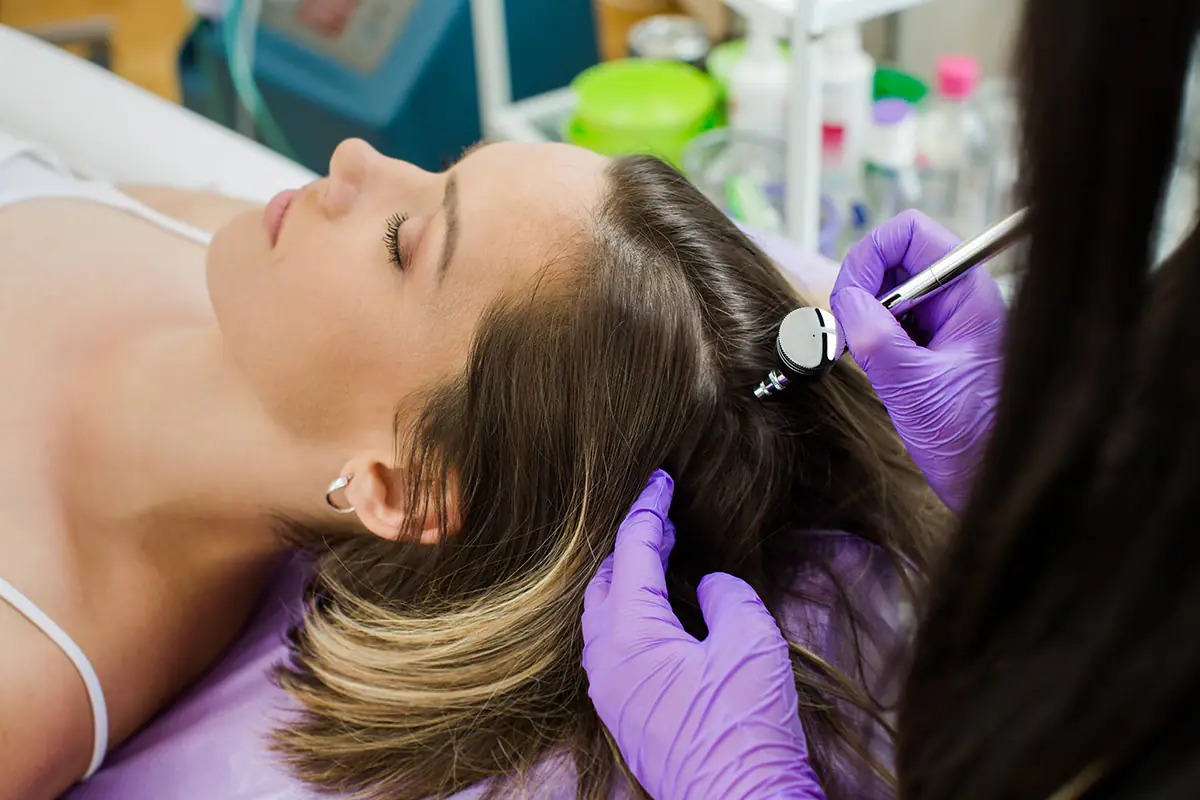 Is this treatment also recommended for men?

Yes, of course!
Price of DermaOXY scalp and hair treatment
Our list price for DermaOXY scalp and hair treatment is
5,000 RSD.
See our complete price list here,
or call us to check current special offers!
Book a dermaOXY – Oxygen treatment for scalp and hair