Awaken the body
Back, legs, arms, face, neck, décolletage...
wherever you need it
Treatment zone:
Body
Problems to be solved:
Muscle tension. Pain and stiffness of the back, shoulders and neck. General fatigue of the organism
Results of treatment:
Reduced muscle tension. Reduced stiffness of the back, shoulders and neck. A feeling of lightness and relaxation
Devices used:
/
Recommended season:
All year round
Treatment period:
Periodically
Other massage: relax, sport, antistress, therapeutic
Other massage: relax, sport, antistress, therapeutic
Relax
Relax massage is a mild and pleasant way to get rid of stress, fatigue, chronic fatigue or anxiety. It is an excellent choice for relaxing the body and raising general health. Reduced stiffness of the back, shoulders and neck, a feeling of lightness and relaxation.
Improves the peripheral circulation, skin tonus and appearance, and reduces musclar tension.
It's your choice: a relaxing massage of the whole body or of selected areas (legs, feet, back, arms, abdomen, chest, neck or face).
Therapeutic
Therapeutic back massage consists of moves tailored to the painful sensations and problems of each patient. The therapist penetrates deep into the muscle tissue with targeted movements and in that way acts on a painful or tense point.
Circulation improves, back and neck muscles relax, inflammatory and painful conditions are healed, back pain, headaches and tensions are reduced.
This is especially effective for people whose work makes them spend a lot of time in front of the computer, giving them a stiff neck and shoulders. It has a beneficial effect on the whole organism because it removes blockages and accumulated stress in the body.
Anti-stress massage
Anti-stress massage is a combination of therapeutic and relaxation massage. The level of cortisol, a stress hormone, is significantly reduced, which diminishes tension and nervousness. It brings the body into a natural balance and relieves pain in muscles and joints.
The organism is brought into its natural balance and the body is relieved of pain. The flexibility of skin and body is enhanced, along with the immunity and the blood and lymph circulation.
The emphasis is on the back, upper spine and neck. For this massage, special anti-stress oils are used, which have the effect of aromatherapy, because they relax the central nervous system.
Sports massage
Sports massage is for both professional athletes and those who just keep fit or play for pleasure. The primary goal is to speed up muscle recovery, prevent injuries and increase athletic ability.
The effect of this massage is to relax the peripheral nervous system, improve the blood supply to the muscles and prepare the body for the effort that follows. It helps reduce limitations to movement, and accelerates the removal of lactic acid that builds in muscles as they work.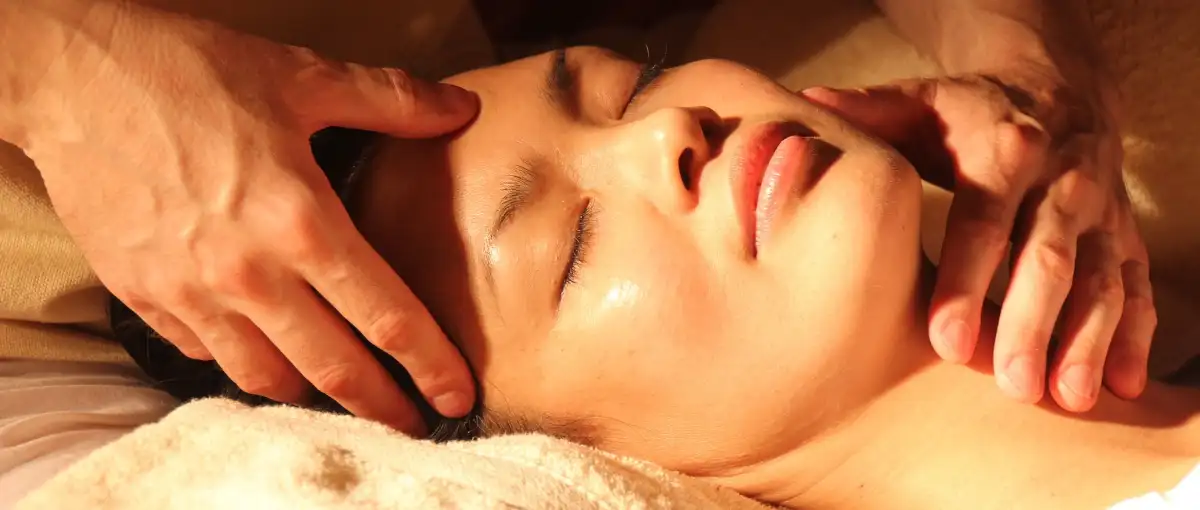 Massage of face, throat, décolletage
Massage of the face, throat and décolletage solves problems of tired and lifeless skin with wrinkles and weak tonus. The treatment improves drainage, activates the circulation, reduces and prevents smoker's and nasolabial wrinkles and chin loss, improves the fullness and firmness of the cheeks, lifts the eyelids and eyebrows, reduces dark circles under the eyes and encourages tight and radiant skin.
There are a large number of muscles in the face and neck that often remain inactive. What each muscle asks of us is activity. Out of as many as 57 facial muscles, people generally use only 10% when eating. When other muscles remain inactive, they gradually begin to weaken, the muscle fibres become thinner and slowly atrophy over time. As a result, we get loose skin. Then bags appear under the eyes and chin, with sagging cheeks and eyelids and a weakened tonus.
What distinguishes facial muscles from body muscles is that they are shorter and thinner. This allows them to respond quickly to exercises, and means that we can strengthen them rapidly. The layer of subcutaneous tissue is much thinner compared to other parts of the body, which helps us to control the facial muscles more easily.
It involves special techniques of pressure and kneading, which push the accumulated fluid towards the lymph nodes and beyond,to eliminate it from the body.
The results of the treatment are reflected in an improved lymph flow, reduced cellulite, improved venous circulation and reduced or eliminated feeling of tired, heavy and swollen legs. An additional effect of this treatment is the detoxification of the body, since this procedure affects the release and elimination of toxins accumulated in the body.
Manual lymphatic drainage of the whole body or partial lymphatic drainage of certain parts of the body (arms, legs, back, abdomen) are available, according to your needs.
Manual lymphatic drainage is not recommended for people with varicose veins and visible capillaries. For such clients, we offer lymphatic drainage by means of the BTL apparatus.
Is this treatment also recommended for men?
Yes, of course!
Massage prices
Check our price list where you'll find the type of massage that suits you,
or call us to check current special offers!
Book a massage: relax, sport, antistress, therapeutic