Awaken the body
Back, legs, arms, neck...
wherever you need it
Treatment zone:
Body
Problems to be solved:
Muscle tension. Pain and stiffness of the back, shoulders and neck. General fatigue of the organism
Results of treatment:
Reduced muscle tension. Reduced stiffness of the back, shoulders and neck. A feeling of lightness and relaxation
Devices used:
/
Recommended season:
All year round
Treatment period:
Periodically
Other massage: relax, sport, antistress, therapeutic
Other massage: relax, sport, antistress, therapeutic
Relax
Relax massage is a mild and pleasant way to get rid of stress, fatigue, chronic fatigue or anxiety. It is an excellent choice for relaxing the body and raising general health. Reduced stiffness of the back, shoulders and neck, a feeling of lightness and relaxation.
Improves the peripheral circulation, skin tonus and appearance, and reduces musclar tension.
It's your choice: a relaxing massage of the whole body or of selected areas (legs, feet, back, arms, abdomen, chest, neck or face).
Therapeutic
Therapeutic back massage consists of moves tailored to the painful sensations and problems of each patient. The therapist penetrates deep into the muscle tissue with targeted movements and in that way acts on a painful or tense point.
Circulation improves, back and neck muscles relax, inflammatory and painful conditions are healed, back pain, headaches and tensions are reduced.
This is especially effective for people whose work makes them spend a lot of time in front of the computer, giving them a stiff neck and shoulders. It has a beneficial effect on the whole organism because it removes blockages and accumulated stress in the body.
Anti-stress massage
Anti-stress massage is a combination of therapeutic and relaxation massage. The level of cortisol, a stress hormone, is significantly reduced, which diminishes tension and nervousness. It brings the body into a natural balance and relieves pain in muscles and joints.
The organism is brought into its natural balance and the body is relieved of pain. The flexibility of skin and body is enhanced, along with the immunity and the blood and lymph circulation.
The emphasis is on the back, upper spine and neck. For this massage, special anti-stress oils are used, which have the effect of aromatherapy, because they relax the central nervous system.
Foot massage – Reflexology
Reflexology is a therapy based on stimulation of reflex points on the feet. During treatment, the therapist stimulates over 7,000 nerve endings.
It improves the functioning of all organs in the body, helps with pain in the back, shoulders, neck, chronic fatigue, circulatory disorders, sinusitis, menstrual pain, sports injuries…
Foot massage is also recommended when you have no health problems, because it is very pleasant, relieves tension, refreshes the body and gives the feet a magical lightness.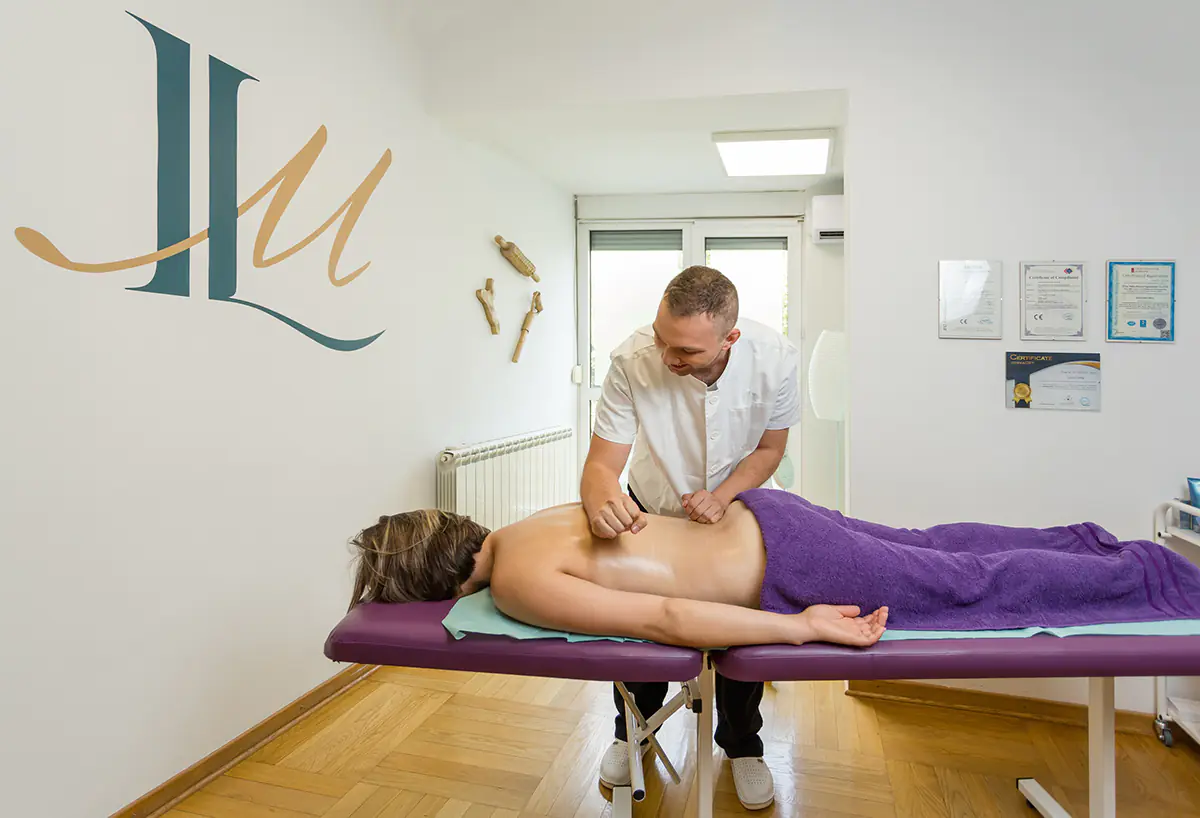 Manuel massage combined with myotherapy
Manual massage in combination with myotherapy is a manual compression technique that helps ease muscle pain. It is the most effective way to remove painful nodules (myogelosis – trigger points) and relieve over-tense muscles of the back, neck and buttocks.
Chronic musculo-skeletal pain can be caused by many conditions including injuries, fibromyalgia, myofascial pain syndrome, tension headaches, back pain… Myofascial pain is a common pain syndrome. Pain is characterized by the existence of points that spontaneously create pain, or it may be transferred pain or partial muscle spasm.
The trigger point is a localized area or point of particular sensitivity (pain) in the muscle. There are several types of trigger points: active, latent, acute and chronic.
Sports massage
Sports massage is for both professional athletes and those who just keep fit or play for pleasure. The primary goal is to speed up muscle recovery, prevent injuries and increase athletic ability.
The effect of this massage is to relax the peripheral nervous system, improve the blood supply to the muscles and prepare the body for the effort that follows. It helps reduce limitations to movement, and accelerates the removal of lactic acid that builds in muscles as they work.
Is this treatment also recommended for men?
Yes, of course!
Massage prices
Check our price list where you'll find the type of massage that suits you,
or call us to check current special offers!
Book a massage: relax, sport, antistress, therapeutic