Like the real thing!
Natural shape and colour of drawn eyebrows
Treatment zone:
Eyebrows
Problems to be solved:
Over-plucked eyebrows. Weak, narrow or thin eyebrows
Results of treatment:
Eyebrows as desired – no difference visible between drawn and natural eyebrows
Devices used:
Sterile disposable tool
Recommended season:
All year round
Treatment period:
One month after the first treatment, an adjustment is made. The effect of the treatment lasts from 6 to 18 months, depending on the skin type.
Microblading – Japanese eyebrow drawing
Microblading is a Japanese technique for drawing eyebrows, in which the pigment closest to the natural colour of the hair is inserted into the first layer of the skin. This gives a uniform, clearer look to the eyebrows, with no visible difference between drawn and natural hairs.
A beautiful face needs beautiful eyebrows! Eyebrow microblading consists of drawing hairs where they are missing, with the help of semi-permanent make-up. It gives the effect of the full and properly shaped eyebrows you have always wanted. Hairs are drawn using a sterile disposable tool. The shape of the eyebrow is determined by a special tool according to the morphology of the face, and the drawing follows the natural growth of the hair.
The advantages of Japanese eyebrow drawing are:
Missing hairs are drawn with a 100% natural look
Save time, no more morning eyebrow make-up
The appearance of the eyebrows is adapted to the hair, complexion and facial structure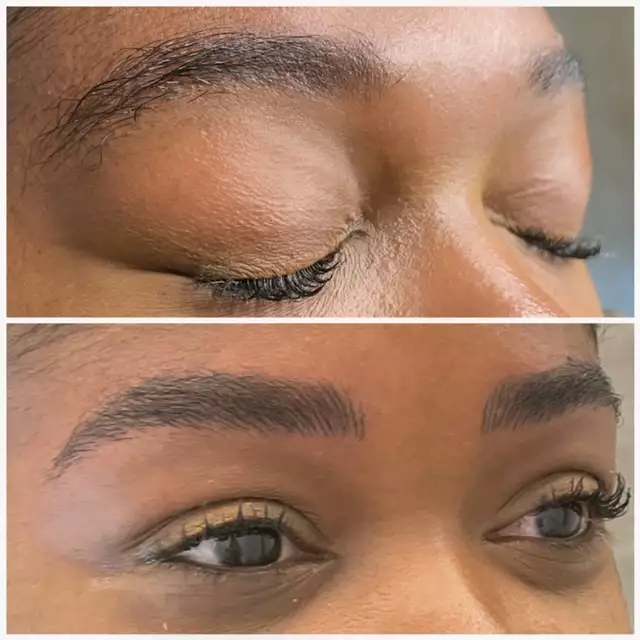 Who can benefit from Japanese eyebrow drawing treatment?
This treatment is for anyone who thinks that their eyebrows are not beautiful enough, thin, narrow or poorly shaped. This technique is most suitable for normal or dry skin.
Is any special preparation required before Microblading?
No special preparations are required, except that it is recommended to avoid the menstrual period. Pre-treatment consultation is recommended.
Is Microblading treatment painful?
A local anesthetic eliminates any feeling of pain.
How many Japanese drawing treatments are recommended?
The first eyebrow drawing treatment lasts from 2 to 2.5 hours. A correction is done after a month and lasts about 1 hour. The colour, density and thickness of the eyebrows after the first treatment are not final. Eyebrow correction is done because about 10-15% of hair disappears, and the color is 20% lighter. After correction the treatment lasts from 6 to 18 months, depending on the skin type.
Is any post-treatment therapy required after microblading?
The healing process of the skin after treatment lasts from 7 to 10 days, depending on the type of skin. It is important to follow the instructions for post-treatment care in the form of rinsing, applying the appropriate cream that you receive from us, and avoiding strong sun, sauna, excessive sweating and make-up in the eyebrow area.
How long is the recovery time after Japanese eyebrow drawing treatment?
The treatment is not aggressive. Redness after the treatment disappears in 30 minutes.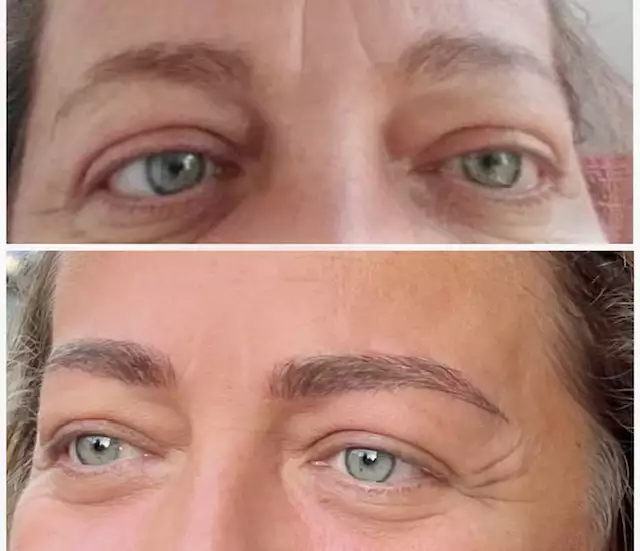 Is this treatment also recommended for men?

No, just for women.
Book a Microblading – Japanese eyebrow drawing