A velvet
complexion
Facial peeling
for clean and healthy skin
Treatment zone:
Face
Problems to be solved:
Clogged pores. Enlarged pores. Grey or lifeless skin. Skin in the process of aging. Dehydrated skin. Sun-damaged skin.
Results of treatment:
Diminished enlarged pores. Cleaned pores. Improved skin texture. An even complexion. Tight, smooth and velvety skin. Prevention and mitigation of signs of skin aging.
Devices used:
Microdermabrasion apparatus
Recommended season:
All year round
Treatment period:
Periodically, best in a series of 3-6 treatments
Diamond microdermabrasion
Diamond microdermabrasion improves circulation, cleanses the face, reduces enlarged pores, reduces blemishes, fine lines and wrinkles. It is based on the use of a diamond probe which removes dead epidermal cells from the surface of the skin.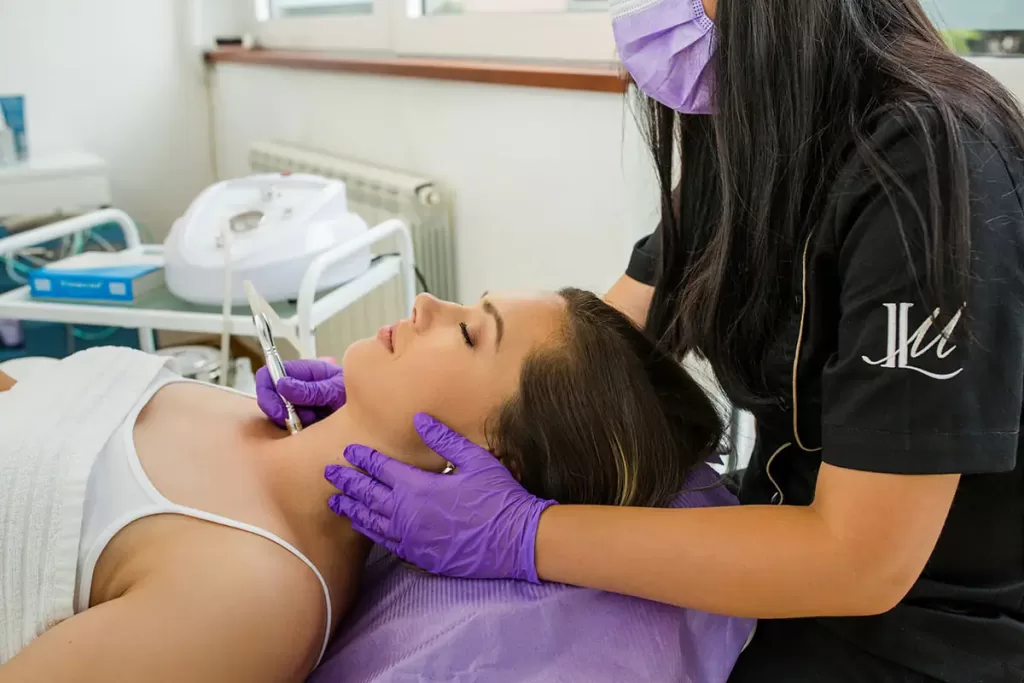 Microdermabrasion is a treatment whose effect is immediately visible – your skin will be clean, fresh and radiant.
After diamond microdermabrasion treatment, cosmetic preparations penetrate deep through the surface layers, reaching the dermis and nourishing it. This increases cellular activity and improves the health and resilience of the skin itself, which is refreshed and beautiful after the treatment.
By applying the latest boosters from GREEN PEEL® and Dr. Schrammek family for anti-aging, hydration, hyperpigmentation or scars and mature skin, you get naturally hydrated skin that breathes, improved skin structure, a skin smoothing effect and reduction of wrinkles, skin brightening and a feeling of firmness and smoothness.
This treatment is an excellent hygienic base for hydration and rejuvenation treatments. Besides removing dead cells, the device's vacuum system removes impurities from the skin. Microdermabrasion is a treatment whose effect is immediately visible and after which your skin will be clean, fresh and radiant.
Who can benefit from microdermabrasion?
Diamond microdermabrasion is for both young and more mature skin. It is a mechanical removal of dead skin surface layers using a probe with a diamond head and a vacuum. This also effects a vacuum massage, contributing to better facial cleansing and improved circulation and lymphatic drainage.
When we add specially designed, natural GREEN PEEL® and Dr. Schrammek boosters for anti-aging, hydration, hyperpigmentation or scars and mature skin, we actively influence these processes or skin problems.
Is any special preparation required before treatment?
We perform all the necessary preparation immediately before the treatment.
Is microdermabrasion painful?
The procedure is painless and leaves no undesirable marks on the skin. Diamond microdermabrasion is suitable for everyone. It is an ideal treatment before an important event, does not require leave from work or your social activity. Your skin is free of irritation and redness, so you can continue with your daily activities immediately after the treatment.
How many microdermabrasion treatments are needed?
The optimal number of treatments depends on the skin type. We recommend a series of 3 to 6 treatments, one every 7 to 10 days.
When are the first results of microdermabrasion visible?
The condition of the skin is visibly improved after the first treatment. The complexion is even and the skin is smooth and pink.
Is any post-treatment therapy required?
After treatment, the skin is sensitive to the sun, so it is not recommended to sunbathe for the next 3 days. Even after this period you must use a protective factor and moisturizer cream. For the first two days, you should also avoid intense exercise, because sweat can irritate the treated part of the skin.
How long is the recovery time after microdermabrasion?
The treatment is non-invasive and there is no recovery time.
How often should microdermabrasion be repeated?
For optimal effect, 3 to 6 treatments should be performed, at an interval of 7-10 days. To maintain the beauty of the skin, new treatment may be done every 3 months.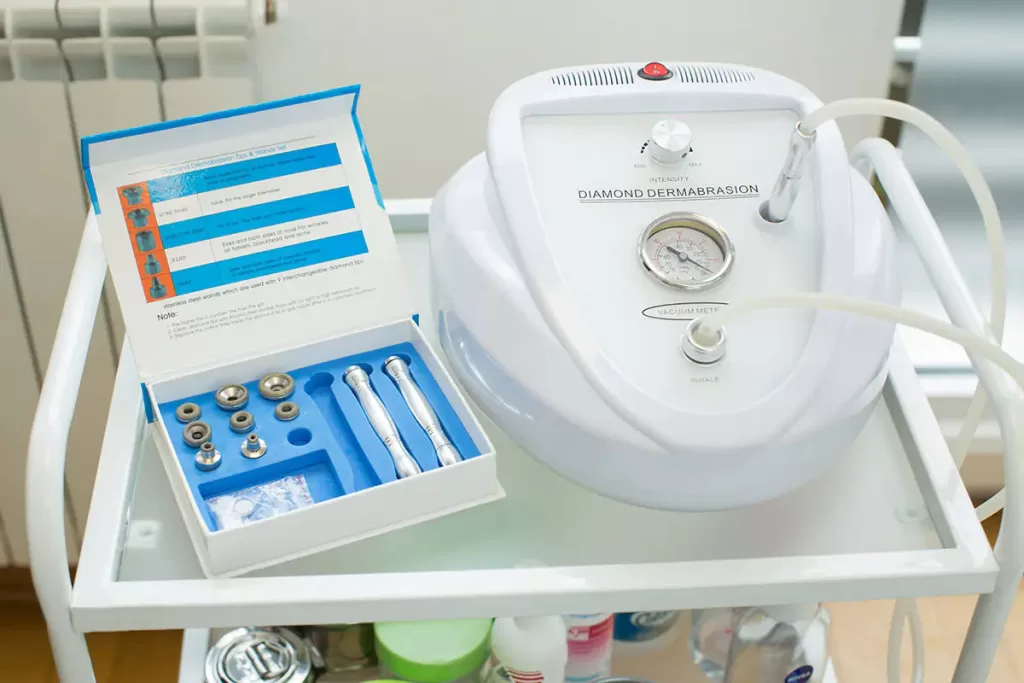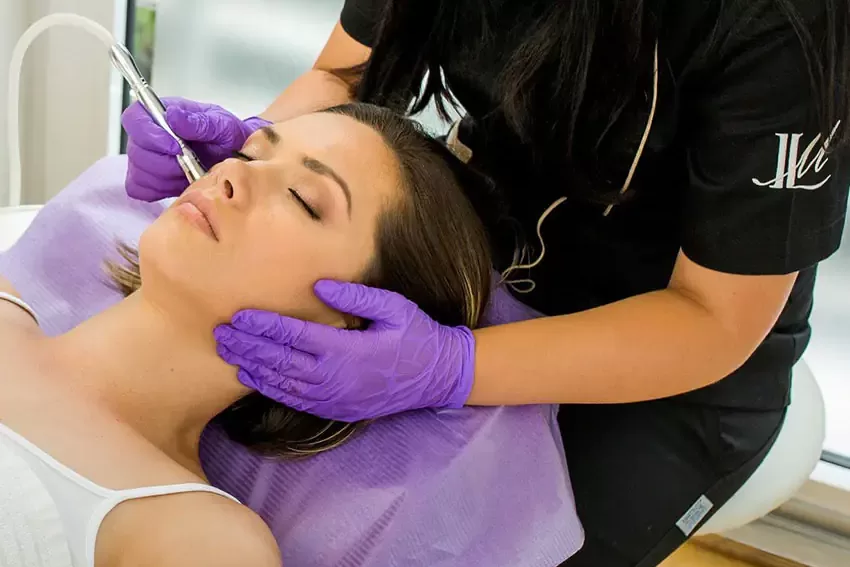 Is this treatment also recommended for men?
Yes, of course!
Book a Diamond microdermabrasion